Parisan and Sons Entertainment has over 20 years experience in helping you create the wedding of your dreams.

We offer helpful forms to begin creating your special event and work side by side with you to add all the special details that make it your own, unique event of a lifetime.

Our wedding packages offer something for everyone. For those on a budget that still want a magical experience, we start as low as $125 per hour for up to 4 hours of service. We also offer many other options to add to your chosen package that will help you create the unique feel that you want. Most weddings come in under $1000 even with tons of extra options!



Wedding Packages

Wedding Package A:
Reception Only (dance/party lights included)
5-7 hours




Wedding Package B:
Reception only, by the hour(dance/party lights included)
Up to 4 hours


Ceremony Add-On
C: Same venue/location
(one music system)
D:Same venue
(two music systems)
E:Separate Venue
(two music systems)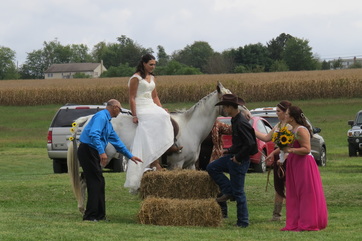 Wedding Package Add-on F
F: Additional system set up at same venue (3rd. system) for indoor or outdoor area.
Usually for cocktail hour, anything that requires musical entertainment before guests are allowed to enter the reception room. This would be a 2nd system setup if not using the 2nd system for the ceremony



Special Offer!
Receive an automatic $100 discount for booking your wedding with us if your wedding falls anytime between January 1, 2016 - April 30, 2016! (Your date must be available with us between January 1, 2016 - April 30, 2016 in order to receive your discount)

---
Additional Options available:
Hi Def. Projector with 72" X 72" portable screen

Displays your Photo/Video Montage usually at the entrance to your wedding reception
Photo/Video Montage production
You send us your home video clips and/or family photos and we place them in a slide show presentation that will display anywhere you like at your wedding.
Do any of your guests have that "lovely singing voice"?
LED lights placed around the venue to enhance your wedding colors
Wedding Backdrop is a White curtain w/ sheer front layer, can add twinkle lights and/or up lighting. Perfect for behind head table or cake table. Maybe setup either in a straight line or in a corner.

Monogram Lighting can project your name/initials or special design directly onto the dance floor, wall or ceiling to accent your special day!

Stage spotlight allows your first dance to be in the spotlight!
| | |
| --- | --- |
| Up-light Package | Dance/party light package |
| | |
| --- | --- |
| Wedding backdrop | karaoke package |
| | |
| --- | --- |
| Screen & Projector Package | Monogram Lighting Package |
Pictures from Previous Weddings

Wedding Reception music ideas

first dance


Savage Garden - Truely, Madly, Deeply
John Legend - All Of Me
Lonestar - Amazed
Stevie Wonder - As
Dooley Wilson - As Time Goes By
Christina Perri - A Thousand Years
Etta James - At Last
Jack Johnson - Better Together
Sade - By Your Side
Elvis Presley - Can't Help Falling In Love
Frankie Valli - Can't Take My Eyes Off You


wedding party


Chris Brown - Forever
Rascal Flatts - Bless The Broken Road
KC & the Sunshine Band - Boogie Shoes
Kool & The Gang - Celebration
Michael Buble - Everything
Tracy Lawrence - Find Our Who Your Friends Are
Garth Brooks - Friends In Low Places
Pitbull / Ne Yo - Give Me Everything
McCoys - Hang On Sloopy
Aerosmith - I Don't Want To Miss A Thing
Bill Medley / Jennifer Warnes - I've Had The Time Of My Life
Rascal Flatts - Me And My Gang


bride & father


Tim McGraw - My Little Girl
Trace Adkins - Just Fishin
Elvis Presley - Love Me Tender
Bob Carlisle - Butterfly Kisses
Elton John - Can You Feel The Love Tonight
Beyonce' - Daddy
Holly Dunn - Daddy's Hands
Krystal Keith - Daddy Dance With Me
Michael Buble - Daddy's Little Girl
Priscilla Ahn - Dream
Paul Simon - Father & Daughter
Beach Boys - Forever
Blake Shelton - God Gave Me You

| | | |
| --- | --- | --- |
| Groom & Mother | Garter Removal | Bouquet toss |
Lee Ann Womack - I Hope You Dance
Lynard Skynard - Simple Man
Scott Keo - All To You
Mikki Viereck - A Song for my Son
Randy Travis - Angels
Simon & Garfunkel - Bridge Over Troubled Water
Carole King - Child of Mine
Van Morrison - Days Like This
Taylor Hicks - Do I Make You Proud
Bob Dylan - Forever Young
The Beach Boys - God Only Knows
Elvis Presley - That's Alright Mamma
Elvis Presley - Memories


Benny Benassi - Satisfaction
David Rose & His Orchestra - The Stripper
MC Hammer - U Can't Touch This
Steven Tyler - (It) Feels So Good
Randy Montana - 1,000 Faces
R. Kelly - 12 Play
Jason Mraz - A Beautiful Mess
Elvis Presley - A Little Less Conversation
Queen - Another One Bits The Dust
Erasure - A Little Respect


Pat Benater - Hit Me With Your Best Shot
Beyonce' - Single Ladies (Put A ring On It)
Cyndi Lauper - Girls Just Wanna Have Fun
Shania Twain - Man! I Feel Like A Woman
Weather Girls - It's Raining Men
Kelis - Milkshake
Blondie - one Way Or Another
Kool & The Gang - Ladies Night
Beastie Boys - Girls
Carly Rae Jepson - Call Me Maybe
Jimi Hendrix - Foxy Lady

| | | |
| --- | --- | --- |
| Garter toss | Garter Back on | cake cutting |
Baha Men - Who Let The Dogs Out
Pat Benatar - Hit Me With Your Best Shot
Inner Circle - Bad Boys
Def Leppard - Our Some Sugar On Me
LMFAO - Sexy & I Know It
Kenny Loggins - Danger Zone
George Thorogood & The Destroyers - Bad To The Bone
Tone Loc - Wild Thing
Tim McGraw - Real Good Man


Marvin Gaye - Let's Get It On
Salt N Pepa - Push It
Tom Jones - You Can Leave Your Hat On
ZZ Top - Legs
MC Hammer - U Can't Touch This
Georgia Satallites - Keep Your Hands To Yourself
Hot Chocolate - You Sexy Thing
David Rose & His Orchestra - The Stripper
Right Said Fred - I'm Too Sexy
Justin Timberlake - Sexy Back


Dixie Cups - Chapel Of Love
James Taylor - How Sweet It Is
Average White Band - Cut The Cake
Archies - Sugar Sugar
Def Leppard - Pour Some Sugar On Me
Michael Buble - How Sweet It Is
Four Tops - I Can't help Myself (Sugar Pie Honey Bunch)
Nat King Cole - L-O-V-E
Blake Shelton - Honey Bee
Jason Mraz & Colbie Cailat - Lucky
Jack Johnson - Better Together
Bruno Marrs - Marry you